10 / 20 / 2015
The wine label, yesterday, today and tomorrow. An interview with Manlio Tonutti.
The wine label, yesterday, today and tomorrow. An interview with Manlio Tonutti from SGA Wine design on Vimeo.
An interview with Manlio Tonutti, head of Tonutti Techniche Grafiche of Fagagna (Udine) alongside his daughter Maria Teresa and son Marco. 400 million labels printed each month, 130 employees, 70 years of history, the company is known as the "Cartier of labels" for its dedication to the finest quality printing. An international point of reference in the labelling sector, this Italian company has expanded into a range of sectors, moving from wines to the wider field of beverages in general, and then on to food and cosmetics. Tonutti, a name synonymous with labels, won "La Vedovella 2014" prize, known also as the "Oscar of printing", in the category of Best Label Printer.
Tonutti Tecniche Grafiche is an outstanding Italian company that was established around 70 years ago by your father, Mario. Can you tell us briefly how he got started in typography and give us a brief history of the company?

It's quite an interesting story. My father was a tailor, an excellent one at that. He had 20 employees and produced 20 quality suites a week. He also sold the fabrics he got from England, Scotland, or in Italy. But it appears that he was also a born entrepreneur: his ambitions went beyond his tailoring business. He always had his eyes peeled for business opportunities.
He knew someone at a lithographic printer in Udine. In 1944, towards the end of the war, the studio was destroyed in a bombing raid and the two-story building reduced to rubble. The owner, speaking with my father, said: "it's all been destroyed, but there's iron in the rubble, cast iron, big machines, it might be worth digging it out to see what can be salvaged". My father realised that there could be something valuable to sell, and so he bought everything as it was from this printmaker, with the gates closed, saying "I'll take what there is, then I'll sort things out myself". The remains of the print shop were dug out, a beam had fallen across a the most important printing machine in the factory. It was damaged, but mostly at the base, not in the rotating mechanisms. My father didn't want to sell it and took it to the courtyard of this tailor's shop, while he sold the rest for scrap. He told the former employees of the printmaker, who were now out of work: "try and fix it up". They worked on it for a year or two and eventually got it working: it printed. Looking around, my father realised that there was a shortage of notebooks and the schools were reopening. So he started printing notebooks, while he continued with his tailoring business. It was 1945.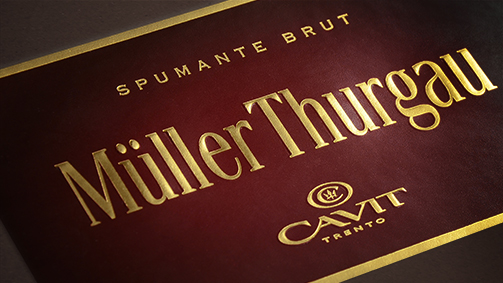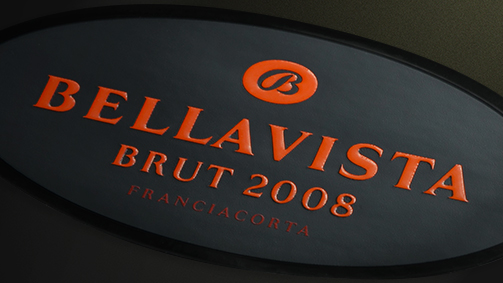 Restyling of Müller Thurgau Cavit and Linea Franciacorta Bellavista
In 1946, something strange happened. My father said: "I didn't do market research, it just came to me". In the town of Fagagna, in our town, there was real hardship in those years after the war. The people had next to nothing, struggled to buy food, there was no work. But one day, strangely, a horse and cart arrived from the direction of Collio. On the cart was a barrel of wine that was to be offloaded at one of the taverns in the town. Word spread and as the barrel arrived, half the town came out to greet it. Practically even man in the town. They couldn't get the barrel into the tavern: the innkeeper tapped the barrel there in the street and as the people came forward he poured the wine. They emptied the barrel. My father, who assisted in this great feat, came to a conclusion: the people were desperate, they didn't have money for food, and yet there was always enough money for a glass of wine. He said to himself: "if people drink when they are desperate, and yet they drink when they are happy… I must in some way become part of this industry".
The business began to evolve: from printing notebooks he began to print labels for local businesses. But for which sector? At that time wine was rarely bottled, especially in our region, and was instead sold in large carboys. So: grappa? He began printing labels for grappas and other spirits and liquors. But it wasn't enough to use the machine to its full potential. And so he added another type of printing, other types of labels to make use of the rest of the equipment for die cutting, veneering, etc. In those years, brooms were selling in incredible numbers. The traditional brooms had a wooden handle to which each manufacturer applied their own paper label. The brooms had famous names, like the Scopa Pippo, millions of which were produced.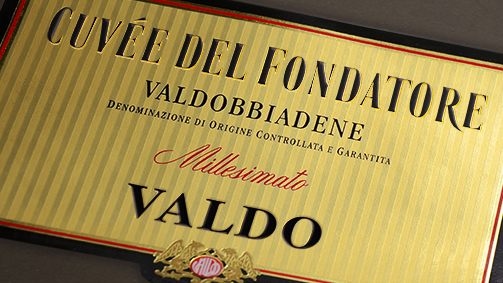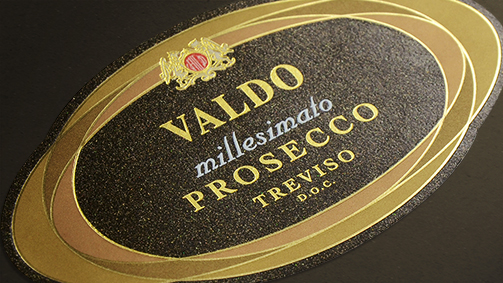 Restyling of Cuvée del Fondatore and original packaging of Prosecco Millesimato Valdo
So the business was printing labels for grappa, liquors, and brooms. From there, the customer service side developed, which required flyers, catalogues or boxes to be printed. The company gradually evolved from the flat bed printing machines and lithography. The first rotary machines arrived, the first Roland machines, from lithography to offset printing. As the equipment evolved my father began printing a bit of everything.
I entered the family business in the 1960s. I took a break from my studies, from university (I had graduated in accounting), and began working with my father. He involved me in the printing company and I made the decision to print just labels. My father agreed with the idea, and I became a partner with a 50% share of the business. When we were just the family together, I often thanked him for the opportunity he had given me, and he always replied: "yes, you are lucky, but I'm lucky too because I've given you 50% of my debt".
And so you decided to specialise in one area?
Yes, in the 1970s we decided not to print any more flyers or boxes, but to focus exclusively on labels. Our core business has always been labels for wine, but back then we printed all sorts, from labels for soft drinks to the food sector.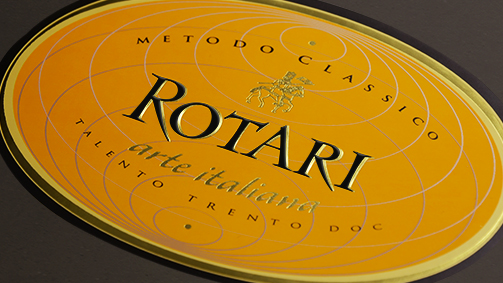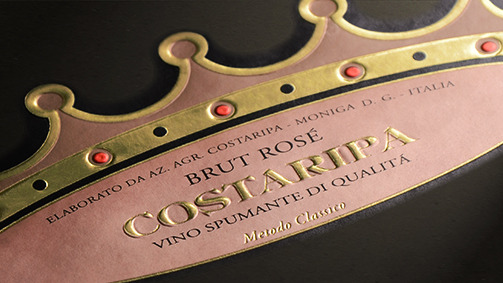 Original packaging of Rotari Arte Italiana and Costaripa Brut Rosé
As you have mentioned, one of your strengths is keeping pace with technological changes, and in fact, often being one step ahead. What are the latest innovations that you have adopted and what do you expect to develop in the future?

Over time we have adopted a range of innovations in order to meet the demands of our customers, realising what more we could offer with the rotary printer that was inconceivable with the flat bed machine. We tried to overcome the limits of paper and glue labels, where first we had to print then veneer, then add the bronze or gold touches… The process was too long, and the number of different stages made quality control quite difficult. A self-adhesive machine on the other hand could do it all.
Of course, we also needed to convince the suppliers. Our efforts (perhaps not only ours but of all those working with self-adhesive labels) went into constructing machines that offered greater possibilities and with which we could use offset printing, which was the primary technique used for labels, or rotogravure, while at the same time gold foil printing and varnish coating printing, making reliefs, embossing, and cutting. We began to make these demands of our suppliers, and we worked together to construct specific arrangements of machines, complete with offset, flexo, the option of gold foil printing, and also a rotogravure line. And in the end, and this was the greatest result for me, we were able to combine these operations with serigraphy.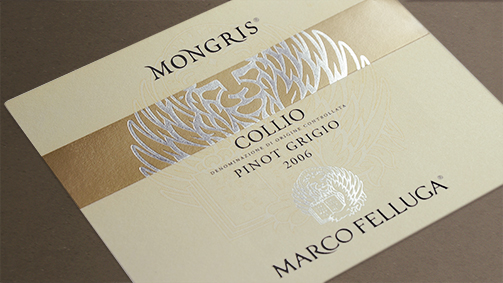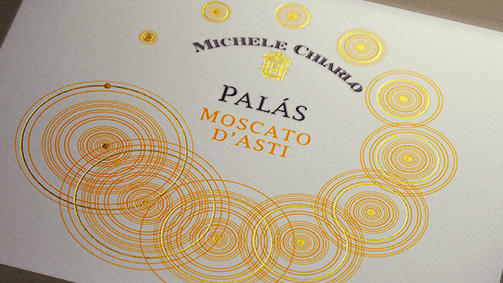 Original packaging of Marco Felluga and Michele Chiarlo
We here at Tonutti installed one of the first flatbed serigraphy machines. It was so slow; several people said we were crazy. I too was convinced that with such a slow printing rate, our clients would never have opted for serigraphic printing. But it turned out that the labels produced by the flatbed, although they were expensive, were of such great quality that they had an immediate boom and demand soon surpassed the production capabilities of the machine. So we acquired faster machines, still with a frame. And we were the first to have a mixed machine, in other words a machine with offset groups and a serigraphy group. The rotary serigraphy machines also evolved: today we can print with rotary serigraphy at a high rate for this type of production. We have machines that print offset for CMYK, flexo for veneer and full backgrounds, and in serigraphy producing great opacity and brightness of colours.
In what ways have you seen the client's requests change over the years?
Over the years, our clients in all sectors, but especially in the wine sector, have begun to export more produce. With exportation, they demand more from the label, which has to be produced with paper that will stand up to the wear and tear of transportation and shipping to far-off places such as the United States. With wine bottles being shipped in holds where humidity exceeds 90%, our most frequent requests have been for labels that had suitable paper and glue and that didn't allow mould to form. Demands also increased for ice buckets for white, sparkling, and spumante wines. It is important to be able to export products with the guarantee that the labels will arrive on the market in tact without the need to invest in expensive containers: for this reason labels with a scratch-resistant veneer are also highly requested, which can stand up to the stresses of transportation and changes in temperature. On our part, in collaboration with the raw material suppliers, we conducted significant research in this field, based on the requests of the clients.
Clients have also matured in relation to the quality of the labels they want and on this front we worked with the companies. It has become more and more important to have labels with brand, important labels, labels that stand out. We noticed that we were often being asked for labels that would appeal to all types of buyers, with different mentalities, because what might do down well on one market in theory might not work on another. This, in my opinion, is true to a certain point. Today, graphically, labels have a global appeal and at times reflect the characteristic of a place. The client wants it to be remembered, and wants the label to reflect the characteristics of their company. They want something extra and I would say that the graphic designers have given them just that. Today there are some beautiful labels on the market, and it is the market itself that demanded them.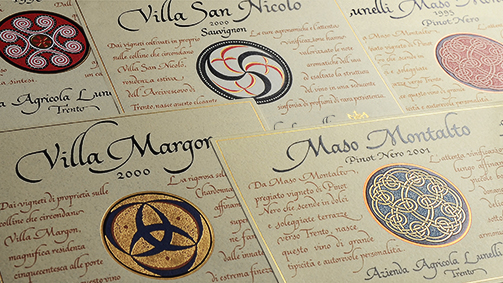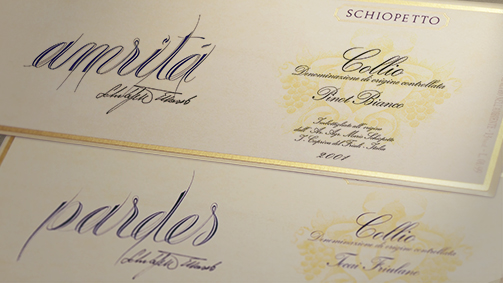 Original packaging of Azienda Agricola Lunelli and Schiopetto
What are the characteristics of a quality label today?
A quality label today cannot overlook certain necessities: above all it must have a glue that guarantees resistance to changing temperatures. Of course, the label for a red wine, if we're talking about wine labels, does not need to be fridge-resistant. So we can use different paper for wines that need to be stored in a fridge or served in an ice bucket, but usually nowadays we opt for a glue that provides the essential qualities for all the labels and a front that is durable and scratch- and water-resistant.
Once the physical qualities have been decided, the label must be aesthetically pleasing. Therefore, the printing technology we have mentioned must be applicable to the graphics, adapting to the requirements of the designer. Today there are no limits to the realisation of a beautiful label, we can print offset if we have CMYK or hexachrome, we can add one or more golds to the same label, or a gold and a silver, with different tones of gold foil printing. We can use flexo printing for sections or fills. I believe that, now and in the future, a fine label needs one or more steps of serigraphy printing, even if only for the finer details, tones or touches. Finally, a label without embossing, without relief, to me seems like it is lacking something. But this is just me, as I try to get everything I can from a label.
We label printers have to be able to offer everything that the graphic studio asks of us. A label may be very simple, for example in just one colour, but the material on which it is printed and the technology used to print it makes all the difference.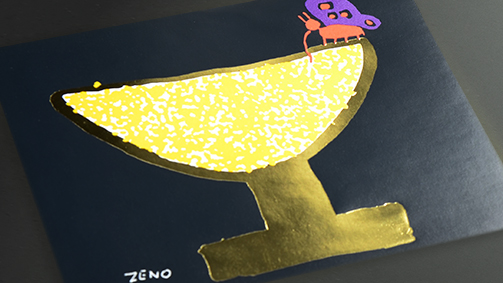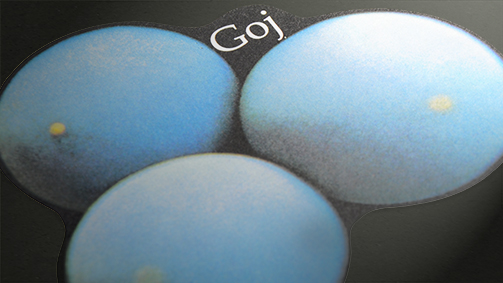 Original packaging of Cascina Castlet
Ok, the last question: can you outline any trends you expect to see in the future regarding the evolution of this market?
It is difficult, but I believe that in certain sectors we will see labels of 100 square centimetres or even more. Today sleeves are on their way in, other labelling systems are developing, which in certain areas can give the designer the possibility of conveying multiple messages. We will almost certainly go in the direction of the sleeve, labels that cover the bottle completely. This trend, by now consolidated in other food and drink sectors, will also involve wine, clearly only certain types, certain products and certain quantities of wines. This trend is destined to expand, in my view, just like the trend to apply messages to the label: we are currently working a lot on augmented reality. We will see more and more labels with a small logo that one can scan with a smartphone to retrieve a lot of information about the wine, the product, the producer. We are already producing some great back labels: in the future they must be ever more intelligent, provide everything a consumer wants to know about the producer, that type of product, how it was made, and its year. In this way, we will have given the consumers what they want. The new world takes us in a direction where information, everything that is in the bottle, can be contained in a tiny label.
We believe that we are among the leaders in this area too, and every day we are trying to involve the suppliers of plastic materials to follow us, because plastic is not just an ugly, cheap or shiny material. We have started to re-evaluate plastic, achieving opaque or mixed results, i.e. shiny or matt (and nobody realises the label is made of plastic); we can also make reliefs on the label. In this way we also provide the durability and resistance to wear and tear that the producers request. I feel that in the not too distant future, relatively few labels for white, sparkling, and spumante wines will be made of paper. We will have more and more materials that will help us in our pursuit of the perfect label. Without naming names, the best labels of the producers of quality champenoise wines in France and in Italy now print on plastic materials. I think that, unfortunately, in the future there will be much less paper used in label printing. I was born with paper, I love it, I love the smell of it, but we will print less and less on paper. In recompense, we will give great satisfaction to our clients: certain problems will be a thing of the past and it is our duty to offer them this opportunity.