11 / 28 / 2016
Wine Tourism and Hospitality: An analysis by Carlo Pietrasanta - Part two
The mission of the Italian Wine Tourism Movement is to promote the culture of wine through wine tourism and develop synergy between the different players. What stage is wine tourism at in Italy? What works and what doesn't? Why is it worth it? All the answers to these questions on wine tourism and much more in the second part of the interview with Carlo Pietrasanta, President of the Italian Wine Tourism Movement (part one HERE).
Intervista a Carlo Pietrasanta, Presidente Movimento turismo Vino: Un'analisi su Enoturismo e Marketing dell'Accoglienza - Seconda Parte from SGA Wine design on Vimeo.
How would you define, or describe, wine tourism?
Wine tourism is the greatest opportunity the world of wine has seen in the last 25 years. It has self-generated with the epochal change in mentality: a quarter of a century ago, talk of wine tourism and winery visits was almost heresy; today there's hardly a winery in Italy that doesn't offer tourist services.
What it's history in Italy?
Wine tourism in our country developed after a 1992 study by the University Bocconi that highlighted how, despite a high demand to visit them, Italian wineries were mainly closed to the public. Since then, a group of winemakers, captained by Donatella Cinelli Colombini, a producer of Montalcino, came together and began planning activities linked to wine tourism. The first activity we invented was "Cantine Aperte", that is Open Wineries, with the first edition held in 1993.

To what extent can wine tourism function as a direct sales channel? Do you have any data on direct sales that result from wine tourism?
We have wineries with up to 50% of their revenue accounted for by direct sales through wine tourism. Direct sales at the winery have always been a part of distribution, and in the 1970s a lot of unbottled wine was sold. Nowadays, another type of direct sale prevails, bottled wine, with a greater profit margin.
When selling wine directly from the winery, what's the average amount people spend? How many wines to they take away?
The average oscillates between 3 and 6 bottles, depending on the area and the value of the wine. If the bottles are prestigious the average is around 3 bottles; for mid-prices wines (around 8 euros), they often take away 6 – 12 bottles.
What proportion of the total revenue does this represent?
From a minimum of 20% to a maximum of 60%, depending on the type of winery. Percentages are more significant for smaller wineries. For those that produce more than 100,000 bottles a year and have at least some commercial organisation, the percentages are lower, but they are becoming ever more important.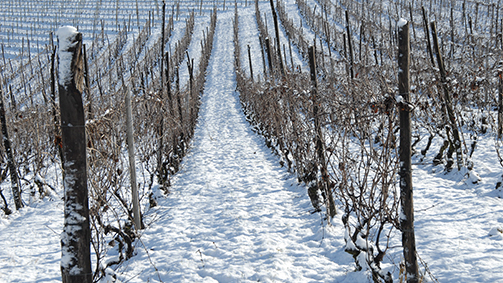 Photo by Franco Bello
How much does being a renowned brand make a difference?
It has a particular influence on foreign clients: being a known brand or representing a famous region attracts people more easily and increases sales.
What problems do you believe tourists from far off countries encounter when trying to send wines home? What do you believe might be the solutions?
The problems are enormous: after September 11th 2001, for security reasons, you can't take bottles on board in your hand luggage any more. As a result, sales at the winery to tourists travelling by air fell sharply. Due to EU levies and regulations, it is complicated for a winery to send wine to a private client in the EU: they have to follow similar procedures to those for importation. Therefore, as a Movement, we are creating a platform that will allow you to send wine to private foreign clients using a self-shipping model: the foreign client will order and pay for the wine and shipping directly at the winery (therefore it's not us sending the wine as a business but the visitor, the wine tourist who is sending his wine home. This expedient, permitted in all 28 countries of the EU, allows customers to ship up to 90 litres a day, paying low shipping costs because there will be a discount on a national level.
How necessary do you believe digital channels (apps, internet and social media) are for this type of offer?
They are fundamental, but you need to know how to use and handle them to avoid them backfiring: it's better not to have them than use them poorly. One of our missions is to raise awareness among wineries and other operators in a territory (offering hospitality, dining, typical products) so that they can manage these new tools together, thus reducing the costs. While a small company often can't spare a person to dedicate entirely to this activity, 5, 6 or 7 companies banded together (of which perhaps only 2 or 3 operate in the same sector: wine, restaurants, hotels, typical products) can create a synergy. Together they can put together the right communication to prevent the apps, platforms and everything else turning into a double-edged sword: failing to respond promptly to a tourist or to those who leave criticism can sometimes be a problem.
How important is it to know how to integrate these channels with traditional communication?
It's essential: with traditional communication you can grab the attention more or less of the over 40's target, which is already a consolidated group of clients. But with new communication methods it is possible to connect with, cultivate and gain the loyalty of the Millennials, the generation now in their twenties and thirties. But it doesn't stop there, it lets you connect with a person who's 80 if they're passionate about wine. Digital communication today has a wider spectrum because there are ever increasing numbers of people, including those of a certain age, who are able to access it.
In which countries do you think they are doing well in promoting and spreading the word of wine tourism? Can you give some examples?
The most striking example is our French cousins. We can only learn from them, even if we Italians are more capable and more exciting. A couple of recent examples: the day before the opening of the BIT travel exhibition in Milan, the French presented the new portal Visitfrenchwine.com, created by the state and companies, small and large. On the website they all have the same visibility, the great regions like Champagne appear with the same prominence and importance as a smaller zone like Jura. Within each zone the giant brands and small producers again appear with the same visibility and prominence. It is logical, the giants that can receive 10 bus tours a day will attract more visitors than the small family businesses, but in the end the results are useful for both.
The other example is the inauguration in great style in Bordeaux, twenty days ago, of the Cité du Vin, the international museum of wine; between public and private contributions, 80 million euros have been invested in the construction of a decanter shaped building for the museum, an operation that has brought together all the political colours of the central state, working together so that as of next year, this place can welcome between 4 and 5 million visitors. We had a marvellous situation in Italy: the Oil and Wine Museum in Torgiano owned by the Lungarotti family, but it's private, and the Enoteca Italiana in Siena, a wonderful place that, for political reasons, was closed down.
Is there a regulation for this sector? Do you think it's necessary? Does it facilitate or hinder the development of wine tourism?
There's' the law on the Strade del Vino (Wine Routes) passed in 1999, but it would be better if it didn't exist. It consists of 4 articles, and since 1999 no implementary regulations have been made. Over the years, with the passage of some responsibilities to the regional councils, a lot of confusion has been created. These institutions created the Strade del Vino e dei Sapori, mixing wine with other products. As soon as the public money ran out, some of the routes were abandoned and only exist today in the form of weathered road signs.
There have been some exceptions that managed to remain faithful to the initial project of Strada del Vino: this doesn't mean that dining, accommodation, or typical products are not involved in the project, quite the opposite. But there must be only one at the helm, it must be the wine that dictates the guidelines. Then, given that visitors to the wineries have to eat, have to sleep somewhere, love to buy typical products and arts and crafts, the influx of visitors is to everyone's benefit.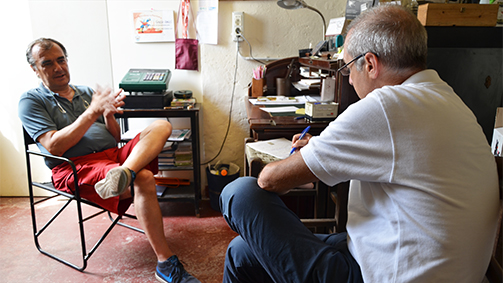 Carlo Pietrasanta with Claudio Castellaro
So do you think it's necessary for the operators to network with each other, tourists, wineries and others)? Do you have an example?
Networking is fundamental: an example in this sense is the Strada del Vino in Franciacorta. The Strada was created independently by the Consortium: the producers of Franciacorta wine, members of the Consortium, pay a single, all-inclusive quota. The Consortium gives the Strada what it needs for it's activities. This is a system that works and produces results. It doesn't mean that there aren't any hotels or restaurants in the Strada Franciacorta, but I repeat, there must be one sector in command. In an area where there is no wine but a lot of apple cultivation, such as in Val di Non, you could create the Strada delle Mele: but it would be a meaningless operation around the world, whereas the so-called wine routes have spread, and are now so popular that they're being 'invented' even where they don't really exist because wine, with its label, is the image of a territory.
This is an Italian example. What about abroad?
The Californian Wine Routes attract numbers that we in Italy can only dream about. It's a different concept, the wineries in California aren't lucky enough to have the historic architecture that ours have, but theirs is a touristic product and are organised as such. Even non-drinkers visit their wineries: as a winemaker friend of mine in Franciacorta says, the important thing is that he has some credit on his card so we can sell him everything, from wine that he might take as gifts for friends, to corkscrews, aprons. All these things we can't sell in Italy. Here, all we wine makers can sell is wine.
What type of tourist comes to visit? In your opinion, what are the prevalent socio-cultural classes and where do they come from?
In the last two years there's been an increase in foreign tourists, even in less well-known areas. I have to say that the effects of the Expo are being felt today, a year after it ended, because it has brought in tourists from all over the world and of all types to re-experience and re-appreciate Italy. Here in Italy, the average wine tourist is someone who has a fair amount of disposable income and is aged between 30 and 60.

Do you think there are new trends in this sense?
They can be created. Today the winery is seen not only as a place where you can buy wine but also as a place where you can relax. A growing trend is that of winery visits during the harvest: you can offer recreational-educational activities, collect the grapes (perhaps not for too long as it's hard work), even help squeeze them under foot. Of course, the producer must be prepared to sacrifice those grapes, you can't use those methods today. But people are willing to pay for the experience, with formulas of around 27-30 euros per person, and then they buy the wine, because they've been satisfied.
Tag Interview, Wine Tourism